Facebook
What is it?
"Giving people the power to share and make the world more open and connected." (Facebook)
Love it or hate it, Facebook is undoubtedly a phenomenon that is living up to its mission. With 400 million people using Facebook every month (Facebook statistics) it has rapidly become part of many people's lives.
Invented in 2003 and made publicly available from 2006, Facebook is arguably now the dominant social networking space on the internet – a space to enjoy frivolous conversation, photos and the froth of time-passing games. But is that all Facebook is good for and does it have a credible place in contemporary education?
What does it look like?
The Facebook experience is only available to those who create an account. Once in, you search for your friends, or they find you. Either way, both parties have to agree to a friendship before you can share each other's
experiences.
Facebook then acts as a good party host using the lists of your friends' friends to suggest peopl
e you may like to invite into your circle. You can also expand this circle by joining groups and/or networks. Privacy is taken very seriously, however, by giving you complete publishing control over the individual elements of your personal profile.
Once in, you can simply be a voyeur of other people's thoughts and conversations, you may wish to comment on what others say, or you may wish to start a conversation of your own.
Facebook plays on the age-old scenario of the three-party conversation: where one person has to walk away leaving the other two alone… It allows the (non-synchronous) conversation to carry on without having to walk away and miss something 'interesting'.
Whether you just want to share photos from a family gathering, ask for advice from everyone in your circle, play games, or simple send a friend a private message, Facebook gives you the space and tools to make your experience an individual and rewarding one.
But how can Facebook be used in education?
How can teachers, trainers & learners use it?
For many, the feeling of being socially 'plugged in' and the opportunity for often witty or inane banter makes Facebook addictive. And because of this, many large organisations block access, fearing timewasting and a loss of productivity. For others, the ostensibly un-regulated environment is seen as a breeding ground for potentially litigious comments and the pre-abuse grooming of the vulnerable – more reasons why organisations, including education and training providers, often ban access through their computers. But not all…
Click to read this ever-evolving thread.
Addictivity    Some education establishments recognise that Facebook's addictivity is something that they can capitalise on. Creating specific topic-based 'pages' enables staff to hold debates with an invited audience or the general public – a complimentary approach to the traditional face-to-face classroom debate. Understanding social media is fast becoming an essential part of any business, marketing or, indeed, media course agenda, and using social media to learn about social media is not being ignored. Knowing that many learners naturally gravitate to Facebook through their computer or mobile phone enables educators to slip into a well-established and functioning communication channel.
Contact    For some staff, this almost intravenous communication channel has other benefits. With dedicated non-public pages for their groups, they can get to know their learners better, so finding more personal anchors on which to hang differentiated learning. Staff can also efficiently, subtly and informally keep in touch with the progress of assignment work – a welcome addition for some to the formalities of the classroom, tutorial and progress review.
Here are three key Facebook features for educators, taken from the Facebook website:
Pages    Pages are for broadcasting information to people on Facebook. For example, you could create a Page called "Ms. Smith's 9th Grade Science Class" where you post daily homework assignments. Anyone can become a fan of a Page on Facebook. People who choose to become a fan of a Page will see updates on their profile.
Pages are free, you can control them with your personal profile, and they keep your profile separate from your learners.
Groups    Groups make it easy for members of a community to connect, share and even collaborate on a given topic or idea. For example, you could create a group called "American Literature 101 Discussions" where you and your learners can contribute to group discussions. Or you could create a group for all of the educators in your department to collaborate on lesson plans and share ideas.
Friend Lists    Friend Lists provide organized groupings of your friends on Facebook. For example, you can create a Friend List specifically for your learners. Then you can control which parts of your profile are visible to this entire list. You can also filter your view of each list's stream of activity separately on the home page, or send messages and invites to this group of people all at once.
Facebook can also be used to set up pre-enrolment groups; a 'keep-warm' strategy where learners can get to know each other, so reducing the typical anxieties associated with starting a new programme.
Where in the learner's journey are you likely to come across it?
Recruitment
pre-enrolment 'keep-warm' strategy
Induction
establishing social bonds
Teaching and learning
checking understanding
identifying emerging support issues
distance learning
Assessment
formative assessment
reflective practice
feedback
Reviewing learners' progress
What impact can it have on learning?
Using Facebook for education purposes is relatively new and fraught with controversy. At the innocuous end of the impact spectrum there are some early attempts to create publicly open pages in which to share teaching and learning good practice; though activity rates seem low and the reviews from users often poor.
With non-synchronous debate now wrestled from the control of journalists by Web 2.0 social networking services, education establishments cannot ignore the need to train learners in how to use this medium effectively and safely. The synergy between this paradigm shift and this learner-preferred communication channel makes Facebook a compelling arena.
Further up the impact spectrum, organising activities, events or groups to debate or showcase issues and opinions are all enabled in the rapid and efficient Facebook world. Helping learners find their personal opinions and to articulate these at local, regional, national and even international level has arguably never been easier. And as a vehicle for developing team skills, social awareness and respect, it cannot be underestimated. That it will have impact is in no doubt, but what that impact might be is yet to be clearly played out. For further ideas about the positive benefits of on-line social networking, read this report, commissioned by Becta and completed by Digizen.
At the safeguarding end of the impact spectrum, however, lays a developing case history of the grooming of the vulnerable by teachers, and the abuse of teachers by learners. Whether you feel this is reason enough to block and ignore Facebook or to engage and train everyone in its proper use is probably immaterial as on-line social networking seems here to stay – with or without the sceptics.
At its best it will… (where appropriate – help for judging good or better)
At its best, Facebook will be used to provide an opportunity for all learners to develop their conversation skills and opinions and their respect for others, in a friendly and enjoyable environment. Learners who previously may have been marginalised in conversation and debate through lack of confidence, will find their voice and the personal skills needed to contribute.
At its worst it will… (where appropriate – help for judging satisfactory or worse)
At its worst, Facebook will be used by staff to metaphorically 'shout down the corridors' to find missing learners. Far from being an environment in which learners develop their respect for others, it may be the very vehicle by which learners or staff are intimidated or excluded.
What are the safeguarding implications?
Unlike many other social networking sites and forums, Facebook's central mission of 'connecting people' is one of its core strengths. To 'connect', both parties will want to know to whom they are connecting. So a user with a pseudonym is most unlikely to be accepted as a friend. Facebook's automated sign-up system also includes strategies for blocking initial sign-up if it suspects that a false name is being given. However, this is by no means fool proof and it would not be beyond the whit of the determined to masquerade as a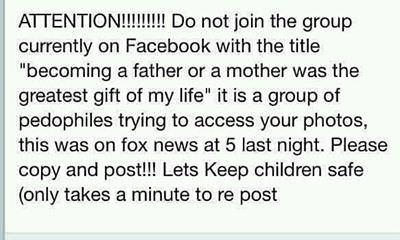 friend of an intended victim. Some users may also be too curious to turn down a friend request from someone they don't know, potentially giving a stranger access to the personal details of his or her whole circle of friends.
Users also need to be on their guard when joining groups, as, depending on their privacy settings, they could unwittingly be allowing access by others to their data and image banks.
But the above will be an issue whether Facebook is used by the educational establishment or not, so internet safety training for all is an essential part of any education programme.
In setting up a specific group or page for learners, a member of staff can be sure that only the intended audience will enter into the shared social space. But with the ability to exchange private messages between learners (and between staff and learners) built into the system the opportunities for peer bullying or inappropriate conversation are ever present.
As with all social networking sites, the false sense of privacy can lead users to post embarrassing, humiliating, denigrating and hurtful content in text, photos and videos. Whilst initially these are only viewable by friends (depending on the individual privacy settings) there is nothing to stop the material from being copied to a local hard drive and used elsewhere – out of the control of the original owner. In some cases, this can put careless users at serious risk of harming theirs or other's reputations and futures.
In addition to the above safety concerns, Facebook users can be tricked into allowing non-friends into their fold, or to download Trojans, or spyware, with what appear to be innocuous games. The hacking of Facebook pages and the looting of personal information from the target, and his or her network, is an ever-present threat.
And finally is the issue of a modern culture full of distractions, as outlined in the following article:
'Facebook fans do worse in exams'
http://www.thesundaytimes.co.uk/sto/news/uk_news/article160966.ece
Footnote
It has been reported in the press and by social networking commentators that the fastest growing Facebook user age group is the mid 50s. However, the author has interesting anecdotal evidence that this is the age chosen at registration by users under the age of 13. Is anything as it seems? Probably not.
Find out more
For which CIF evaluative statements could it generate evidence?
A1        How well do learners achieve and enjoy their learning?
A1a.4    learners attend and participate as required.
A1b.1   learners develop personal and social skills, including, as appropriate, spiritual, moral and cultural aspects
A1b.2   learners enjoy learning and make progress relative to their prior attainment and potential
A2        How well do learners improve their economic and social well-being through learning and development?
A2.1     learners develop relevant knowledge, understanding and skills which contribute to their economic and social well-being
A3        How safe do learners feel?
A3.2     learners say they feel safe.
A4        Are learners able to make informed choices about their own health and wellbeing?
A4.1     learners have the knowledge and understanding to enable them to make informed choices about their health and well-being.
B1        How effectively do teaching, training and assessment support learning and development?
B1.2     interesting and appropriate teaching and learning methods and resources inspire and challenge all learners and enable them to extend their knowledge, skills and understanding
B1.3     technology is used effectively to promote and support learning, where appropriate
B1.6     learners receive constructive feedback on their progress and how they might improve
B1.8     learning, teaching, training and assessment promote equality and recognise diversity.
B4        How effective are the care, guidance and support learners receive in helping them             to   attain their learning goals?
B4.2     learners receive individual care and support to promote their learning and development, and to help them achieve their potential.
C3        How effectively does the provider promote the safeguarding of learners?
C3.1     learners are safeguarded and protected
C3.2     staff take action to identify and respond appropriately to users' welfare concerns
C3.3     safeguarding is prioritised
C4        How effectively does the provider actively promote equality and diversity, tackle discrimination and narrow the achievement gap?
C4.1     manages equality and diversity, particularly disability, gender and race, and actively promotes equality and diversity among staff, learners, employers, parents and other partners
C4.4     makes sure that all learners and staff are protected from harassment, bullying and discrimination, including those based with employers and at other sites external to the providers
C4.5     manages incidents and complaints specifically about disability, gender and race equality
C5        How effectively does the provider engage with users to support and promote improvement?
C5.2     the views of different user groups are sought and acted upon to plan, manage and improve the provision