Session title: GCSE English: Avoiding Ofsted nightmares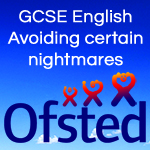 Integrating literacy development for all, improving expert learning skills, high-grades, and GCSE grades. 
Duration
GCSE English: Avoiding Ofsted nightmares is a half-day session.
Publicity information for event organisers
The effectiveness of providers' discrete and embedded English provision is arguably the FE and Skills sector's greatest challenge of the moment. It's certainly the biggest inspection trip hazard, causing many providers to fall from good or outstanding to 'requires improvement' or worse.
That the goalposts have moved is without question. That the moral imperative to do so, likewise. That English should be treated as a limiting grade, however, seems divisive at best. But whatever your starting point for looking at this subject, everyone's agreed that current performance is simply not good enough.
Whichever way we look at success rates for learners who narrowly failed English at school, resit success rates in FE are appalling. That less than a third succeed with their resit is the rosier picture. Some commentators suggest that in the last full set of data available (November 2015), in 85 of our GFE colleges only 4% of learners who'd previously achieved a D grade went on to secure a C or above. But why? Establishing the root cause of this underperformance is obviously a pre-requisite to finding the solution, though most would agree that this process is more 'art' than 'science'.
Could it be that teachers don't know how to embed literacy development effectively? Or perhaps that both teachers and learners view English as a separate, bolt-on, second-class subject.
In this session, delegates will explore these issues by looking at the seamless overlap between the nine assessment objectives set by Ofqual for the GCSE English examination and the core skills of the expert/independent learner. In other words, when staff plan expert learning skill outcomes in their lessons they will not only be proactively developing learners' independent learning skills, but also embedding effectively all nine of the GCSE English assessment objectives.
This strategy also solves a further, fundamental problem. Many providers report that when they initially assess the literacy skills of learners who have passed GCSE English at C or above, that the results often show them to be severely lacking in key literacy areas. The impact of this can be seen early in the learners' courses by their failure to satisfy high-grade criteria.
So by thoroughly embedding the development of all learners' expert learning skills, providers not only improve their GCSE English pass rates, but also the high-grade and high value-added rates of all. Being a significant win for learners and an easy win for teachers, this strategy is a must for any education provider wanting to avoid an Ofsted nightmare.
Information for potential delegates
Imagine if there was a way to adjust your subject-specific scheme of work to ensure that all GCSE English resit learners passed their retake with high grades. Whilst this may sound overly aspirational, you might also like to imagine that this strategy could result in a significant improvement in value-added scores and high grade pass rates for all learners, not just the re-sitters (where these are not already outstanding, of course). The final image for consideration is of delighted inspectors writing glowing accounts of your excellent integration of literacy and outstanding development of learning independence. If you'd like help with any of these images, then the session: 'GCSE English: avoiding Ofsted nightmares', might just help.
This session will enable staff to:
evaluate the nine assessment objectives central to the GCSE English examination
explore the relationship between GCSE assessment objectives and expert, independent learner skills
use this understanding to develop innovative approaches to embedding literacy in schemes of work
reflect on the writing of lesson objectives to include the development of expert-learner skills.
What the delegates say
A journey of new understanding.
I found it useful to see the assessment objectives for GCSE English and have the time to think about how drama can serve these objectives, and embed them in every class.
Shamazing!!
Changed my own mindset.
Light at the end of the tunnel.
I thought we'd be talking about [GCSE English] exams. We actually talked about how to develop learners' skills. I found this much more useful and inspiring – building skills for the future – skills students can use. It needs to be longer.
It was like being cocooned in a warm, pleasant sweatshirt.
Moved perspective.
West Thames College
Have a look at what other providers said about this training. Click here, then 'Filter by session', and select the title for an overview of providers' feedback. You may then wish to 'Filter by provider' to see further details of the impact it has had on individual staff. These comments can be invaluable when generating curiosity about forthcoming training.
Duration
CSE English: Avoiding Ofsted nightmares is a half-day session, though a shortened, two-hour version, with less practical activity can be delivered.
Typical uses in a staff development day include:
Contact
To discuss your requirements in detail, please phone or drop us a line.